Club Honored at Alumni Conference
The Twin Cities Illini are named a 2014 Outstanding Alumni Club at this fall's annual leadership conference in Urbana-Champaign. The award recognizes the achievements of a regional alumni group.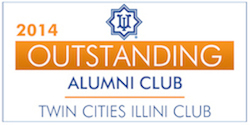 The Twin Cities Illini Club has been recognized as a 2014 Outstanding Alumni Club. Announced Oct. 24 at the annual University of Illinois Alumni Association Alumni Leadership Conference, the award recognizes regional alumni groups that best exemplify the Illini spirit and active community involvement. Award winners were selected among national clubs and identified by the Campus Alumni Advisory Board and UIAA staff members.

"The committee was exceptionally impressed with the numerous community service events, family-friendly outings, and consistent game watches," said CAAB Chair Janine Smith at the conference presentation.

Club president Suresh Sreenivasan said the award highlighted a successful year for the organization. "We really have had a pretty good year as a club. This is due directly to our very active and collaborative nine-member board, another 10 to 20 or so dedicated members who participate in everything we do, and others within the 3,200-strong community of local Illinois alumni."

The Twin Cities Illini Club shares this year's recognition as Outstanding Alumni Club with the Houston Illini Club, the Illinois Alumni Club of Greater Washington DC, the Illini Club of San Diego County, and the Black Alumni Network. A description of this year's club and group awards and information on the Alumni Leadership Conference appear on the UIAA website.