Area Illini Take Over The Barn
Twin Cities Illini Club cheered the Illinois men's basketball team on to a victory over the Minnesota Gophers Jan. 23.
The Twin Cities Illini Club traveled to Williams Arena to see the Illini hold off the Gophers in an exciting overtime victory. Showing up strong in a contingent of 73 area Illini fans and alumni, the club joined forces with the Orange Krush student section who made the trip north to crash Minnesota's home court. The club and the Krush traded ILL - INIs and urged the team on.

Trailing by five with just over a minute left in the game, the Illini roared back on a clutch a three-point shot by Kendrick Nunn and game-tying free throws from Malcolm Hill. The overtime was all Illini. The team poured in another 16 points to hold off the Gophers, 76 - 71. The win snapped an eight-game on the road losing streak for the Illini.

T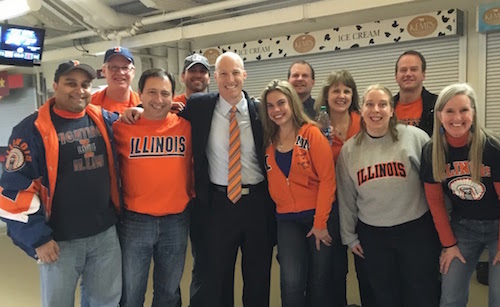 he Illini fans made themselves known in this game, out-cheering Gopher fans in the final stretch. Even the media took note, with the Champaign News-Gazette giving a nod to the "home feel" provided by the club and Orange Krush.

After the game, club members came to the floor to congratulate the players and Coach John Groce.

Proceeds from the game fund the Twin Cities Illini Club scholarship and activities. Read about the 2015 scholarship winner and visit our Past Scholarship Recipients page to hear from previous recipients.