Club Assists Hunger Relief Group
Twin Cities Illini Club volunteers helped pack produce and canned goods for area food-distribution network the Food Group.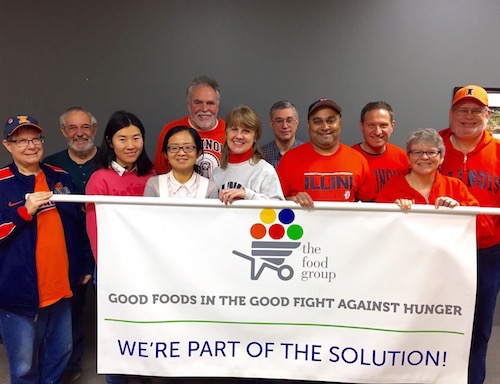 Club members aided food-shelf distribution center the Food Group this past Saturday, helping package produce and relabeling canned goods for distribution. Together the Illini attendees boxed 5,250 pounds of potatoes, carrots, onions, and other produce and re-labeled and packed 504 cans of corn.

According to the Food Group representatives, the amount translates to 4,795 meals that the organization and its partners can distribute to the community.

The Twin Cities Illini Club with its Community Service Chair Paul Lubinski thanks all our participants in making the event a success.

The next community service event will be held at Second Harvest Heartland April 29 as an all Big Ten effort. Watch our Events page for further information and to sign up to volunteer.

The Food Group distributes foods to over 200 partner food shelves throughout the Twin Cities. To learn more about The Food Group, visit thefoodgroupmn.org