2019 Scholarship Winner Named
An East Ridge High School graduate receives the 11th-annual Jack Carlson Memorial Twin Cities Illini Club Scholarship.
T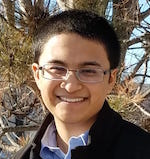 he Twin Cities Illini Club has named Woodbury, MN, student Raj Patel its 2019 Jack Carlson Memorial Twin Cities Illini Club Scholarship winner. Raj graduated from East Ridge High School where he was awarded summa cum laude with distinction. In high school, he was the co-founder and member of the Coding Club where participants explored computer and software development. During his senior year, he developed an Android app that evaluated depression in young adults. He presented the application in an event hosted by Congress, the Congressional App Challenge, in which he placed as a finalist.

Raj volunteered for the BAPS Non-Profit Organization, American Cancer Society, and Nature Conservancy in organizing youth events on the local and state levels. Raj was honored with the President's Volunteer Service Award in the Gold Tier for volunteering for more than 250 hours and showing outstanding support to the community.

Following his interest in technology and software, he is studying computer engineering at the University of Illinois at Urbana-Champaign.