9:00AM - 12:00PM Sat 15 Jun 2019

Join the Twin Cities Illini Club and and Big Ten alumni in helping maintain native trees and plants in historical Hidden Falls Regional Park in Saint Paul. The event is co-sponsored by the Mississippi Park Connection. Sign up today!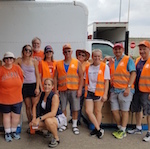 Twin Cities Illini Club members collected donated fresh produce for use in area food bank initiatives, helping gather over two tons of fruits and vegetables at the Minneapolis Farmers Market.

The Twin Cities Illini Club awards an Eagan High School graduate with its annual scholarship recognizing outstanding academic and extracurricular achievements.
---
Latest Tweets