11:00AM - 2:30PM Sat 20 Oct 2018

The Twin Cities Illini Club has a small block of tickets courtesy of the Madison Illini Club for the Saturday, October 20 Illinois vs Wisconsin football game in Madison. Purchase your tickets today! Deadline to buy is October 10.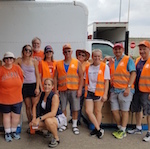 Twin Cities Illini Club members collected donated fresh produce for use in area food bank initiatives, helping gather over two tons of fruits and vegetables at the Minneapolis Farmers Market.

The Twin Cities Illini Club awards an Eagan High School graduate with its annual scholarship recognizing outstanding academic and extracurricular achievements.
---
Latest Tweets